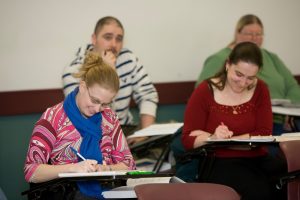 CRISP offers scholarships for Educators through the RET scholarship program for graduate credit-bearing courses. The Physics Department at Southern Connecticut State University (SCSU) offers graduate courses  in Science Education and Nanotechnology/Materials Science. To see the graduate courses offered by SCSU click HERE
Eligible courses:
PHY 521 – Characterization of Nanomaterials
PHY 523 – Nanosystems Laboratory
SCE 575 – Integrated Science Experience
The CRISP RET scholarship will cover tuition for one course in the MS in Science Education program at SCSU for a current or future educator (pre-service, elementary through high school, or community college level). Please complete and send the application materials to CRISP at your earliest convenience (no later than April 01). Electronic submission to dri@southernct.edu is preferred. To avoid issues with submission, please save this document first and then complete.
Please send materials to: CRISP RET Scholarship • c/o Christine Broadbridge • SCSU Physics, SCI 108D • 501 Crescent Street • New Haven, CT 06515
Required Documents:
Current CV/Resume
Recommendation Letter
Personal Statement**
**Personal Statement: What do you hope to gain/learn from your participation in the course you will be taking this summer? In particular, how will it impact your work as a current (or future) educator?