CRISP Education and Outreach
The Education and Outreach (EO) program is an essential part of the Center for Research on Interface Structures and Phenomena, (CRISP)  MRSEC located at Yale and SCSU. CRISP offers activities that promote the interdisciplinary and innovative aspects of materials science to a diverse group of participants. The objective of the program is to enhance the education of future scientists, science teachers, K-12 students, parents, and the general public. Our goal is to offer interdepartmental and intercollegiate programs in modern materials science education to address the need for: improved scientific literacy of future voters and public officials, more qualified science teachers who are well educated and socially diverse, state-of-the-art research experiences for undergraduate students, increased multidisciplinary education and training for graduate students. CRISP EO programs have evolved based on a process of feedback and evaluation into its signature programs: MRSEC Initiative for STEM Education (MISE) and MRSEC Initiative for Multidisciplinary Education and Research (MIMER) To learn more about our EO program and the opportunities available, please go to our main site
CRISP provides educational resources to local area educators and STEM professionals, with particular focus on urban districts. We invite you to explore this site to learn about the opportunities CRISP provides to educators. To get updates about our workshops and other events, join our mailing list!
Incorporating Engineering and Three Dimensional Learning into the Science Classroom
Saturday | March 4, 2017
8:30 am - 12:00 pm
Southern Connecticut State University
Environmental topics – including those in current events like pipeline construction issues – are relevant and engaging content areas to support instruction in Engineering Design, Disciplinary Core Idea ETS1 in the NGSS. In this active and participatory workshop, we will use oil spill cleanup as an engineering design problem that could anchor a classroom unit. Attendees will receive an oil spill demonstration kit to introduce the topic and learn how to guide students in the engineering design process. During the workshop, participants will create and refine their own arguments to explore Science and Engineering Practice 7: Engaging in Argument from Evidence. In the discussion and planning portion of the workshop, we will take time to consider different DCIs from the physical, life, and earth and space sciences that could be grouped into a unit around this anchor. Lastly, participants will have some time to discuss how ETS2 – Links among Engineering, Technology, Science, and Society; Nature of Science ideas; and Crosscutting Concepts – could be reinforced in a unit anchored by this design problem.
Light breakfast will be provided
Invited Presenter:
Gail Emilsson, a former New Haven Public Schools teacher of ten years, now representing the Connecticut Center for Advanced Technology, Inc.(CCAT), a non-profit organization in East Hartford, CT that leads regional and national partnerships with industry, academia and government to advance strategies and activities for enhancing the skilled workforce pipeline.
View the flyer 2017 March 4
Spaces are limited, register HERE by February 24th .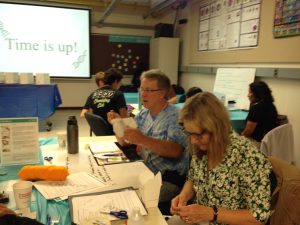 Environmental Data Analysis with Connections to NGSS
Saturday | March 18, 2017
9:00 am - 3:00 pm
Southern Connecticut State University
Using natural life science phenomena and authentic data sets, participants will explore data collection and interpretation as well as various approaches to analyzing the data sets. Connecting this to the Next Generation Science Standards, teachers will be able to understand the process of construction, analysis, and interpretation of graphical displays paired with hands-on activities to incorporate into their lessons.
Refreshments and lunch will be provided
Invited Presenters:
Susan Quincy, Environmental Education Specialist | CT Department of Energy and Environmental Protection, DEEP State Parks
Nicole Granucci, Curriculum Support Specialist | CRISP; Physics Faculty | Southern Connecticut State University
View the flyer 2017 March 18
Spaces are limited, register HERE by March 1st.
For more info crisp.southernct.edu
SAVE the DATE!
July 25 - 27, 2017
This is a 3-day professional development workshop designed to acquaint science teachers with real-life applications of STEM skills in today's manufacturing environment. In the past, this workshop has been extremely successful in providing a comprehensive, first-hand-look at various forms of industry. In 2016 we introduced a new approach: the Materials and Manufacturing Summer Teachers' Institute 2.0!
This newly designed workshop continues to educate teachers on today's manufacturing environment, but also gives educators the opportunity to be completely submerged in the industrial process. Teachers learn about the methods of manufacturing with heat, brass and plastics, and use state-of-the-art machinery to design and build their own hammer. With the ability to use resources from both Southern Connecticut State University and Platt Technical High School, the Materials and Manufacturing Summer Teachers' Institute 2.0 is a comprehensive, hands-on, unparalleled experience for everyone involved.
Check out photos from the 2016 M&M workshop!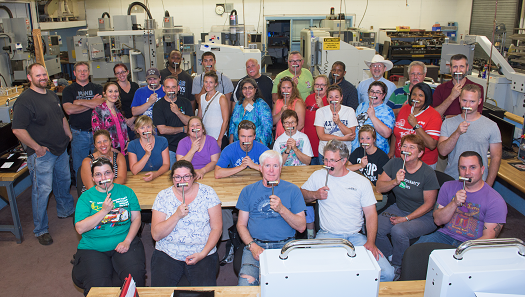 3rd Annual SCSU Undergraduate Research and Creativity Conference
Saturday April 8, 2017 | 8:00 am - 5:00 pm | SCSU Adanti Student Center
Come spend the day viewing an amazing showcase of student research, posters, presentations, papers, readings, theatrical performances, art installations, music, and more! Abstracts are currently being accepted.
To submit your abstract please go to http://southernct.edu/go/conf3
Abstract deadline is March 6, 2017 at 5:00 pm
Questions or concerns may be sent to Kelly Bordner at bordnerk2@southernct.edu
View the flyer Conference Flyer
SCSU Graduate Research and Creative Activity Conference
Tuesday May 9, 2017 | 5:00 - 8:30 pm | SCSU Adanti Student Center
To submit your abstract please go to http://southernct.edu/gradconf
Abstract deadline is March 31, 2017 at 5:00 pm
View the Graduate Conference flyer
Various stages of graduate research will be accepted - not just final results!
Why Participate?
Great for resumes/CVs
Professional Development
Showcase your hard work
Network with colleagues
For more info please go to https://www.southernct.edu/academics/graduate/
26th Annual Connecticut Microelectronics and Optoelectronics Consortium (CMOC)
Wednesday April 5, 2017 | Dodd Research Center, Konover Auditorium, UCONN, Storrs, CT.
Invited talks in the area of NanoElectronics, NanoPhotonics, Wide band gap electronics, MEMS Devices & Biosensors, Photovoltaics and Alternate Energy Sources, Systems and Applications.
To submit your abstract please email 2-page abstracts (pdf file with one inch margins, 11 or 12 font ) to:
Prof. M. Gherasi
University of Bridgeport, Bridgeport CT 06601
mgherasi@bridgeport.edu
Online registration: www.regonline.com/CMOC2016 Abstract deadline is March 3, 2017
More Information: http://www.ee.uconn.edu/cmoc
Judges Needed!
Monday, May 15, 2017 | 4:30pm - 8:00pm (Dinner is provided)
Tuesday, May 16, 2017 | 9:00am - 1:00pm (Breakfast & Lunch provided)
---
Odyssey of the Mind State Tournament
March 4, 2017 | Half day training (Breakfast provided)
March 18, 2017 | Full day (Lunch provided)
We are looking for undergraduates, graduate students postdocs and faculty to help us bring STEM into our community. We need volunteers for events like Family Science Nights, public lectures, workshops and more.  Click here to sign up to volunteer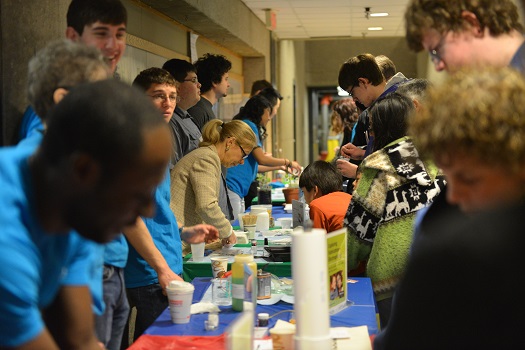 CRISP EO programs are supported by the National Science Foundation (NSF) under Grant No. DMR-1119826. Any opinions, findings, and conclusions or recommendations expressed on this site are those of the contributing author(s) and do not necessarily reflect the views of the NSF