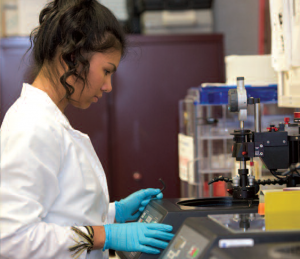 CRISP offers scholarships for educators through the RET scholarship program for graduate credit-bearing courses. The Physics Department at Southern Connecticut State University (SCSU) offers graduate courses throughout the Fall, Spring & Summer semesters in Science Education and Nanotechnology/Materials Science. Application is available in the Spring semester
The Graduate Certificate in Nanotechnology (GCNT) is a three-course graduate certificate program with a prerequisite of one foundational science, technology, engineering, or mathematics (STEM) course at the advanced undergraduate level. The GCNT program provides high quality education and training experiences in the general concepts of nanotechnology and detailed knowledge and practice in the areas of characterization and synthesis of nanoscale materials. The certificate program is designed to be synergistic with the undergraduate and master's programs in the Department of Physics and is closely linked with the establishment of the Connecticut State Colleges & Universities Center for Nanotechnology (CSCU–CNT) at SCSU. The GCNT program is multi-institutional in its structure because select faculty from all four CSCU campuses (Central, Eastern, Southern, and Western) are involved in the program, but the certificate is issued by the Department of Physics at SCSU.
Required Courses:
PHY 519 – Fundamentals of Nanoscience
PHY 521 – Characterization of Nanomaterials
PHY 523 – Nanosystems Laboratory
The Master of Science program in Applied Physics is an interdisciplinary program that offers students the opportunity to complete graduate studies in physics with a particular emphasis on applied research and technology development for industry. The program is a formally recognized Professional Science Master's degree program, meaning that in addition to science courses, students are also required to take courses in management. The program in Applied Physics has two tracks — materials science/ nanotechnology and optics/optical instrumentation — intended to develop the state's workforce in the established optics and materials science industries, as well as in the emerging nanotechnology sector.
In addition to the Applied Physics program, students pursuing the Master of Science in Science Education (Secondary) may choose their concentration in physics. Admission to that program is through the Department of Science Education and Environmental Studies.
Required Courses:
PHY 507 – Applied Physics Graduate Seminar
PHY 511 – Experiments and Demonstrations in Physics
PHY 512 – Methods of Theoretical Physics
PHY 519 – Fundamentals of Nanoscience
PHY 521 – Characterization of Nanomaterials
PHY 523 – Nanosystems Laboratory
PHY 530 – Optics and Optical Detectors
PHY 531 – Interferometric Methods in Imaging and Precision Measurement
PHY 580 – Special Project
PHY 590 – Thesis Research I & PHY 591 – Thesis Research II
SCE 575 – Integrated Science Experience